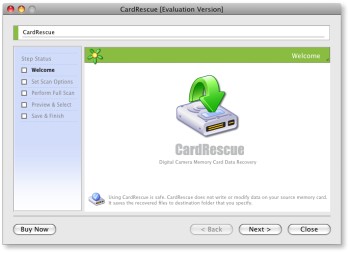 Intel or PowerPC



Supported Systems

Mac OS X 10.6 (Snow Leopard),
Mac OS X 10.7 (Lion),
Mac OS X 10.8 (Mountain Lion),
Mac OS X 10.9 (Mavericks),
Mac OS X 10.10 (Yosemite)

Click Here for Windows Version



Download Free Evaluation Version (v5.60) to perform a quick scan on your memory card and see the recoverable pictures
Only 498 KB, just a few seconds to download.
CardRescue - an Easy to Use Data Recovery Software
CardRescue's user interface is well designed and users do not require professional skills to use the software. You may need 10 to 20 minutes to complete the lost pictures rescue. Also, the program provides various file formats (including raw image formats) selection before lost file search and provides thumbnail view for the images that can be recovered before saving.

Easy Steps (1-2-3):

1. Download CardRescue Software
2. Connect Your Camera or Card Reader to your Mac
3. Use CardRescue to Scan and Rescue the lost photos



Supported File Types:

CardRescue photo recovery supports common image formats (e.g. JPG, TIF) and most raw image formats (e.g. Nikon NEF, Canon CRW and CR2 and many more). It also supports video and movie clips files retrieval which includes AVI, MOV, AVCHD and more.

CardRescue is a photo rescue software for Mac OS X. It is designed to rescue deleted photos and movies, or photos lost from formatted or damaged digital camera flash memory cards.
CardRescue rescues your lost pictures from SD, CF, xD card, MemoryStick and more. Some situations that CardRescue can help:

Photos deleted unintentionally or intentionally from memory cards.
Photo loss due to "Format" or "ReFormat" operation in the camera.
Memory card corruption, damage, error or inaccessible state.
Damage or memory card error due to turning camera off unexpectedly.
Data loss due to using between different cameras or devices.

Using CardRescue is secure and risk-free. The software does not write anything to or modify the data on the flash card. It rescues the photos from the card and saves them to a folder on your hard drive.





Why are the lost pictures recoverable in most cases?

For deleted picture files, or formatted memory card:

Most digital cameras do not wipe the pictures completely from your camera storage card on deletion or format. It may just remove the filenames and file entries (e.g. name, time stamp, file length), but your photo and movie data may still remain unchanged. So it is possible for CardRescue to search and restore the deleted photos, or lost picture files due to format.

For corrupt memory card, or memory card with error messages:

Once your digital camera storage card was damaged, lost pictures rescue may still be possible. CardRescue bypasses the original file system on the memory card and retrieves the sector data of the card using low level access. In most cases, it is able to recover them.

But data recovery is not always possible.


Are my lost pictures recoverable?

It is recommended to download the free evaluation version of CardRescue to see if your lost pictures are found. It may just take 5 - 20 minutes. The overall success rate is over 90%.


Does CardRescue support my memory card?

CardRescue software supports almost all memory card types including SD Card (SD, SDHC, SDXC, MicroSD), CF (Compact Flash) Card, xD Picture Card, Memory Stick and more with capacity up to 256 GB.